GAME DESCRIPTION
Il est temps de rejoindre les seigneurs du thrash et du rock sur les rouleaux dans le dernier jeu de machine à sous Play'n GO Testament!
Nommé d'après le groupe, Testament célèbre l'un des groupes les plus influents du thrash metal. Basé sur leur album acclamé par la critique Dark Roots of Earth en 2012, et le symbole Scatter prend la forme de l'image de couverture de l'album.
Les symboles HP sont toutes des images emblématiques de la scène thrash metal; un crâne, un vampire, un loup-garou, un squelette et un bouclier. Les autres symboles sont constitués des valeurs de carte Jack à Ace.
Mais ce n'est pas tout; le symbole du crâne a la possibilité diaboliquement délicieuse de se transformer en Wild sur n'importe quel tour de jeu aléatoire. De plus, lors des fonctionnalités spéciales, il se transformera toujours en Wild lorsqu'il atterrira sur les rouleaux … génial!
Le Wild dans ce jeu est un démon thrash metal et se substituera à tout symbole dans le jeu (sauf le Scatter) pour vous aider à créer des combinaisons gagnantes le long des voies de paiement du jeu; vous devez faire correspondre au moins trois symboles le long d'une voie de paiement pour remporter une victoire.
Le jeu dispose également de trois fonctionnalités bonus incroyables pour faire basculer les rouleaux et vous aider à gagner plus d'argent! Les fonctionnalités sont les fonctionnalités de chanson, Rise Up Spins et les tout-puissants Testament Spins!
Caractéristiques du morceau
Les caractéristiques du morceau peuvent être déclenchées en faisant atterrir 2 Scatters sur la bobine en un seul tour. Une fois déclenché, le joueur reçoit trois tours gratuits et l'une des trois fonctionnalités aura lieu:
Cold Embrace – Tous les Wilds qui atterrissent sur les rouleaux resteront sur la grille et y resteront jusqu'à ce que vos tours gratuits soient terminés
Dark Roots of Earth – Skull HP se propage vers le haut ou vers le bas sur la bobine quand ils atterrissent.
Trône d'épines – La grille passera de 5×3 à 4-5-6-5-4, augmentant les voies de paiement de près de dix fois le montant standard, jusqu'à 2 400 voies de paiement!
Rise Up Spins
Rise Up Spins est déclenché lorsque vous décrochez 3-5 Scatters sur les rouleaux en un seul tour, l'atterrissage de 4 ou 5 Scatters accordera respectivement 4x ou 20x le montant total de votre mise. Une fois qu'il est déclenché, vous recevrez neuf tours gratuits, et les rouleaux s'étendent à 4-5-6-5-4, avec neuf espaces en haut de la grille bloqués avec des bloqueurs de pierre.
Chaque fois qu'un Scatter atterrit sur les rouleaux, il fracasse un bloqueur de pierre, élargissant le rouleau d'un espace.
Si vous détruisez les neuf bloqueurs de pierres pendant les tours de montée, vous activerez les tours de testament.
Testament spins
Lorsque vous déclenchez des tours de testament, vous recevrez instantanément trois autres tours gratuits au joueur, en plus du nombre de tours d'augmentation qu'il lui reste. Tous les tours restants combineront tous les pouvoirs des fonctionnalités de la chanson, ce qui signifie que les Wilds deviendront collants et se propageront également.
Rejoignez le groupe et allons rock!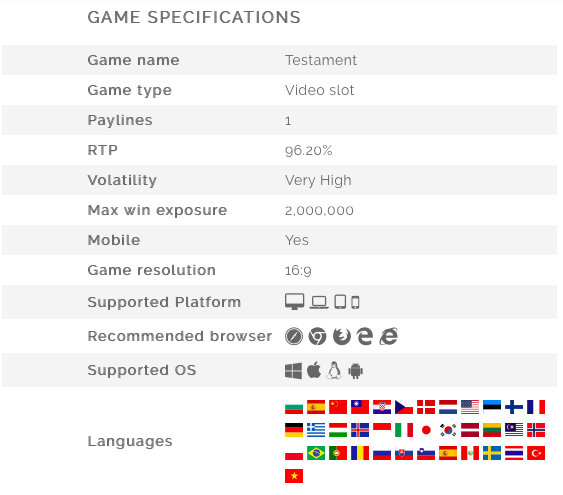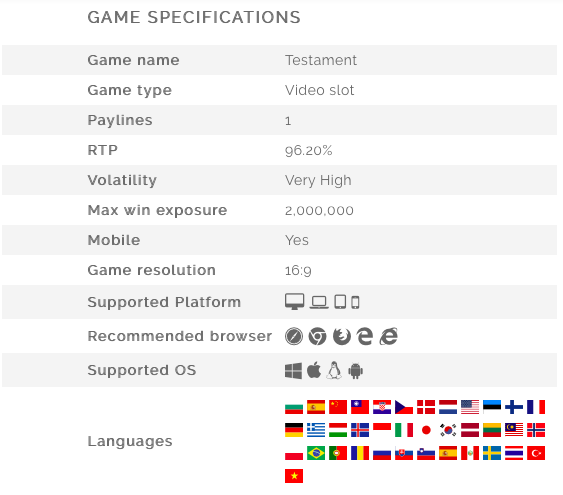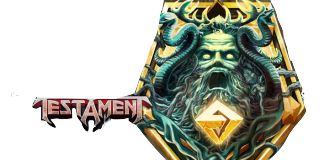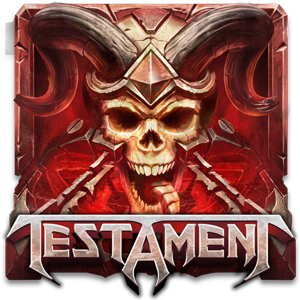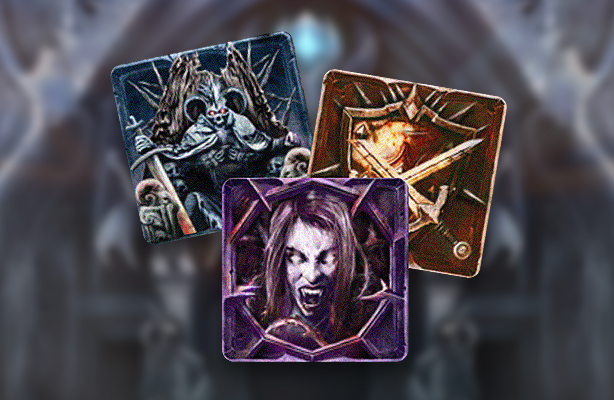 Retrouvez le jeu TESTAMENT chez :