TAKE THE BANK
Êtes-vous prêt pour le casse d'une vie? Bienvenue sur TAKE THE BANK, une machine à sous au rythme effréné avec de très gros gains. Volez la banque et fuyez avec les marchandises dans une aventure passionnante avec des tours de bonus wilds collants et un superbe potentiel!
5 rouleaux, 75 lignes de paiement, mais illimité. Attention aux HEIST SPINS; chaque rotation vous rapproche d'une explosion de bombe. Collectez les voleurs sur les rouleaux et tous les 10 tours, ils se transformeront en un symbole WILD, brisant les coffres grands ouverts.
Gardez les yeux ouverts pour la police, car 3 symboles bonus déclencheront les SPINS GRATUITS. Attrapez la poignée de wilds qui courent pendant le vol et participez au braquage d'une vie. TAKE THE BANK est rapide, explosif et prêt à faire ressortir les grandes victoires.
Brisez les coffres et gagnez gros dans TAKE THE BANK!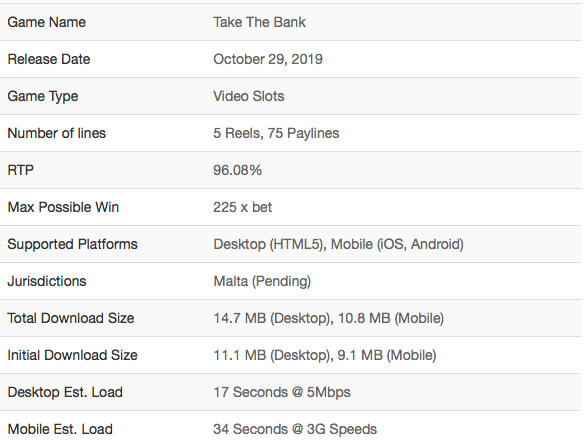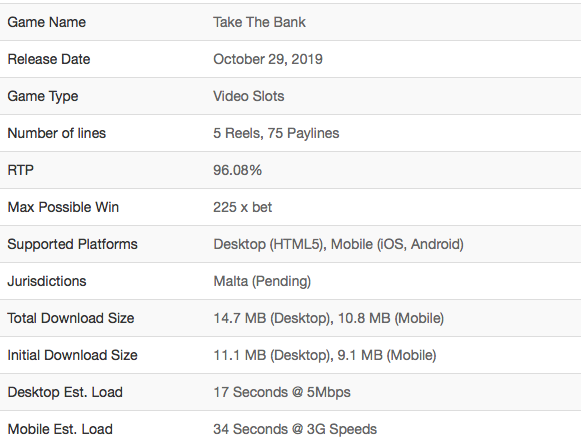 Heist Spins
Engagez-vous dans un système de progression unique. Chaque fois que vous tournez, un BOMB COUNTER compte à rebours de 10 à 0. Les symboles ROBBER se transforment en BOMBS qui, après les 10 tours, deviendront SAUVAGES!
Free Spins
Récupérez 3 VOITURES DE POLICE et le JEU BONUS démarre. Vous recevrez 5, 7 ou un EPIC 10 SYMBOLES SAUVAGES dispersés sur les rouleaux. Chaque rotation unique verra tous les SYMBOLES SAUVAGES se déplacer vers un nouvel emplacement, donnant potentiellement d'énormes gains!
Achat Bonus
Vous voulez commencer à démanteler les banques maintenant? Aucun problème. Vous pouvez acheter la fonction bonus à tout moment et sélectionner la quantité de WILDS que vous souhaitez voir sur l'écran.
Retrouvez le jeu TAKE THE BANK chez :