GAME DESCRIPTION
Rejoignez le magicien alors qu'il exécute un tour ou deux pour vous aider à remporter le jackpot dans la dernière extravagance à 5 rouleaux de Play'n GO
Faites correspondre les symboles de gauche à droite sur 20 lignes de paiement fixes dans la grille 5×4 pour remporter une victoire.
Le magicien sera à portée de main avec son tour de main rusé pour vous aider à déverrouiller l'une de ses performances de signature en tant que symbole Scatter ou pour vous aider à évoquer des combinaisons gagnantes en tant que Wild.
Si vous posez deux symboles Scatter magicien sur les rouleaux, vous déclencherez les fonctionnalités de performance magicien et il exécutera au hasard l'un de ses tours de signature!
Le Wild Shuffle ajoutera des Wilds supplémentaires sur la bobine; The Expanding Man étendra les deux Scatters et créera deux rouleaux sauvages et The Transporting Man ajoutera un troisième Scatter pour déclencher vos tours gratuits!
Si vous obtenez un magicien sauvage pendant l'un de vos tours gratuits, il restera sur les rouleaux jusqu'à ce que tous les tours soient terminés … comment c'est pour la magie.
De plus, il vous donnera une chance de relancer un nouvel ensemble de tours gratuits pendant la fonction de tours gratuits.
Préparez-vous à être étonné et étonné… un peu de magie fait beaucoup!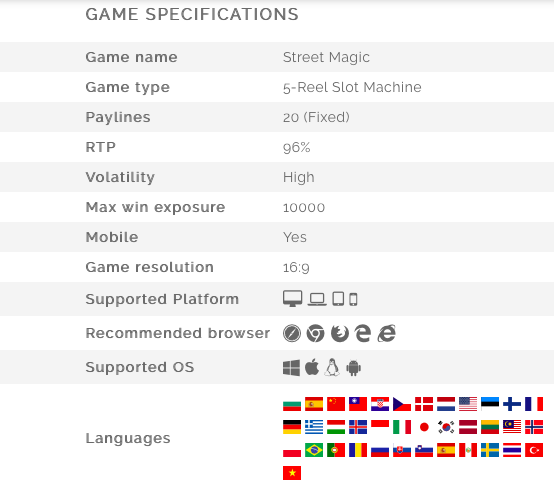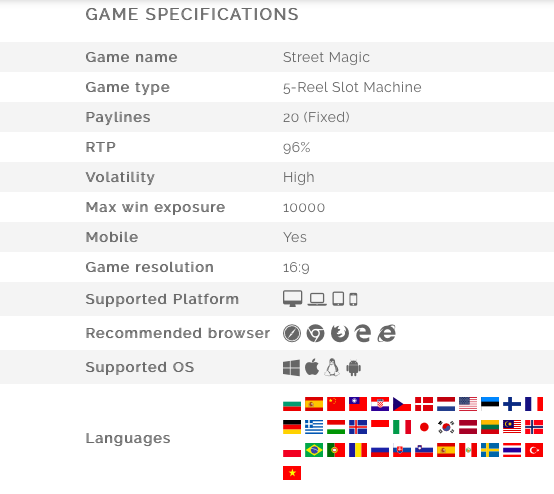 Retrouvez le jeu STREET MAGIC chez :