GAME DESCRIPTION
Entrez dans un monde magique dans The Rise of Merlin, le dernier titre des spécialistes des machines à sous Play'n GO!
Basé autour du sorcier légendaire de la tradition arthurienne, Rise of Merlin suit le sorcier dans sa jeunesse avant de devenir la figure mythique qu'il est connu comme aujourd'hui.
Le jeu se déroule sur une grille de 5×3, et tout ce que vous avez à faire est de faire correspondre 3 symboles ou plus sur l'une des dix lignes de paiement gagnantes pour remporter une victoire!
L'orbe magique mystique de Merlin est le sauvage et le dispersé ce jeu, ce qui signifie qu'il remplace non seulement tout autre symbole pour aider à créer des lignes de paiement gagnantes, mais peut également être utilisé pour déclencher la fonction Free Spin du jeu.
Les tours gratuits peuvent être déclenchés en faisant atterrir 3 orbes magiques ou plus n'importe où sur les rouleaux et donneront vous huit tours gratuits, ainsi que le paiement du nombre de Scatters sur les rouleaux.
Vous pouvez à nouveau déclencher les Free Spins à tout moment, et vous obtiendrez huit autres spins à chaque fois.
Une fois que vous déclencherez des Free Spins, un symbole sera choisi au hasard pour devenir votre symbole étendu pendant les spins.
Si le symbole que vous avez choisi est un symbole HP, vous devez atterrir au moins deux sur les rouleaux en même temps pour déclencher son expansion s'il s'agit d'un symbole LP, vous devez en atterrir au moins trois sur les rouleaux pour déclencher l'expansion.
Si vous atterrissez suffisamment d'instances de votre choix symbole sur les rouleaux, tout d'abord les gains que vous obtenez de votre spin seront payés, puis votre symbole sera étendu, et tous les gains seront également payés à partir de l'extension!
Chaque fois que vous relancerez des tours gratuits, un autre symbole sera choisi comme symbole en expansion.
Si cela se produit, chaque symbole sera développé à son tour pour que vous puissiez collecter des gains sur chacun, en commençant par le symbole le moins payé.
Si vous relancez suffisamment de tours gratuits, TOUS les symboles deviendront des symboles étendus! Préparez-vous à lancer un sort gagnant avec Rise of Merlin!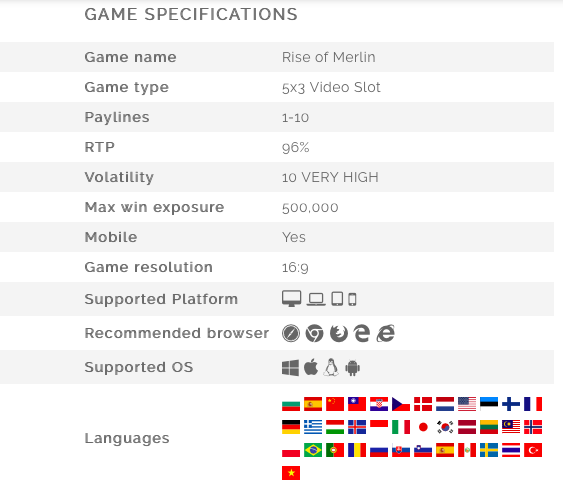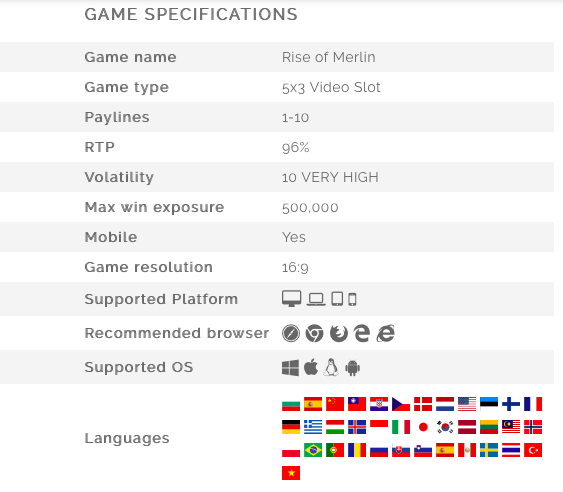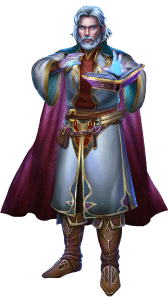 Retrouvez le jeu RISE OF MERLIN chez :