GAME DESCRIPTION
Les LPs sont représentés par 10 par Ace, et vous devez faire correspondre trois d'entre eux pour votre victoire de jeu de base.
Le scarabée doré sacré est votre Wild, et il se substituera à tout symbole HP ou LP pour vous aider à remporter encore plus de victoires en cours de route.
Le symbole Scatter est le Parchemin d'or, et vous pouvez l'utiliser pour activer l'une des principales fonctionnalités du jeu, Ancient Spins.
Le jeu a trois caractéristiques principales. En plus des tours antiques, il y a aussi des Mega Stacks et Gift of Gods, tous conçus pour vous aider à atteindre vos gros gains!
Les méga piles sont des piles de 12 espaces consécutifs sur chaque bobine qui seront remplies au hasard avec n'importe quel symbole HP ou LP.Ainsi, pendant votre rotation, elles traverseront les rouleaux, permettant à une pile complète de symboles d'atterrir sur une bobine donnée.
Pendant vos tours, si les Pharaons le jugent bon, ils invoqueront leur magie pour évoquer le Don des Dieux et invoquer des Mega Stacks identiques sur les première, troisième et cinquième bobines.
Il y a aussi une chance pour les deuxième et quatrième rouleaux d'afficher le Meg Stack pendant la fonction Don de Dieu, vous bénissant avec une grille complète et de grandes victoires!
La fonction de couronnement du jeu est Ancient Spins, que vous pouvez déclencher en faisant atterrir le Scatter sur les rouleaux 1, 3 et 5 et, une fois déclenché, vous recevrez 10 tours gratuits.
Pendant les tours antiques, vos symboles HP ont une chance de s'étendre sur les rouleaux pour vous donner plus de lignes gagnantes.
Après chaque rotation, tous les symboles HP qui font partie d'une ligne gagnante seront étendus. Premièrement, tous les autres symboles gagnants paieront; alors les symboles HP augmenteront et paieront toutes les victoires!
Mais ce n'est pas tout; Les Mega Stacks sont également toujours actifs pendant les tours antiques. Tous les symboles LP peuvent être empilés, et ils occuperont huit espaces de bobine consécutifs, et les Wilds feront également partie des Mega Stacks et apparaîtront empilés en groupes de 6 ou 7 sur les rouleaux.
Si vous obtenez plus de parchemins dorés sur la bobine pendant les tours antiques, alors vous recevrez plus de tours gratuits, selon le nombre de parchemins qui arrivent sur un tour:
1 Scatter offre deux tours gratuits supplémentaires
2 Scatters accordent quatre tours gratuits supplémentaires
3 Scatters accordent dix tours gratuits supplémentaires
Il n'y a pas de limite au nombre de tours gratuits qui peuvent vous être accordés pendant la fonctionnalité!
Débloquez les connaissances anciennes et gagnez avec Rise of Dead!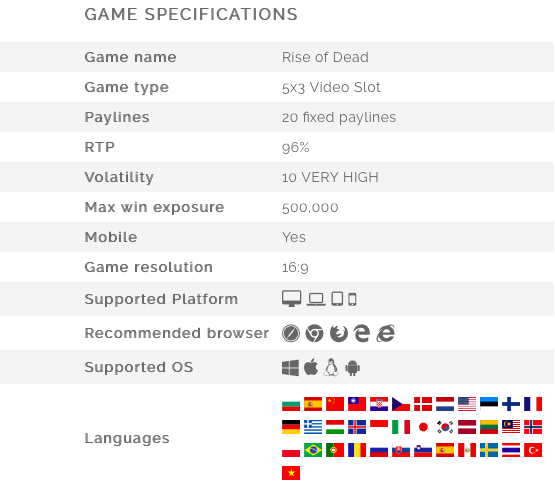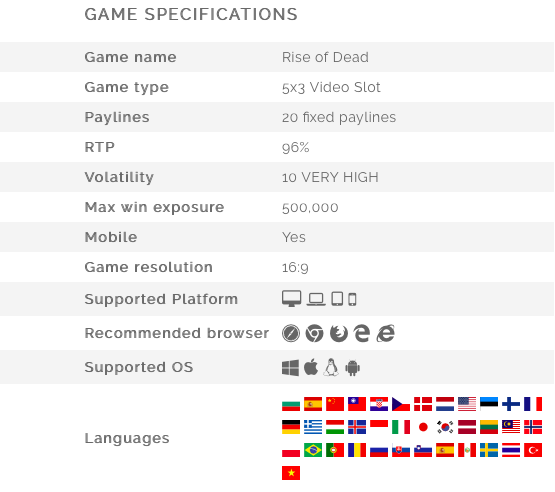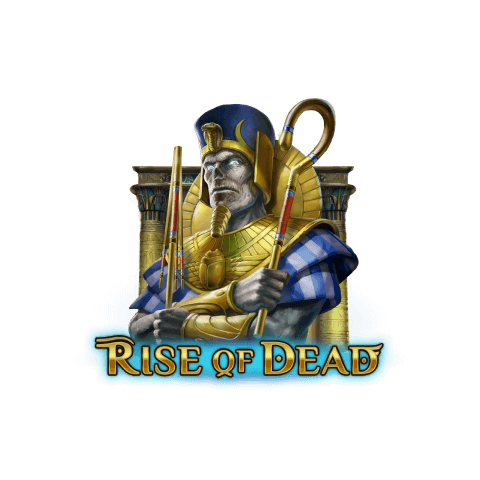 Retrouvez le jeu RISE OF DEAD chez :