GAME DESCRIPTION
Votre mission, si vous l'acceptez, est de remporter les grosses victoires dans la dernière machine à sous Play'n GO Mission Cash!
Inspiré par le look intemporel du genre d'espionnage des années 60, Mission Cash est une machine à sous à 5 rouleaux qui capture le plaisir classique et l'excitation des films et des émissions comme James Bond et The Man de U.N.C.L.E.
Rejoignez Agent Red, Agent Blue, Agent Green et Agent Purple (noms de code secrets, bien sûr!) Et essayez de faire correspondre 3 symboles ou plus le long des 20 lignes de paiement du jeu. Les symboles HP peuvent également jouer le rôle de Wild du jeu, mais plus à ce sujet plus tard!
Le symbole Mission Cash Scatter est le fidèle pistolet silencieux de l'agent que vous pouvez utiliser pour «déclencher». La fonction Bonus Free Spins du jeu.
Les jokers et les tours gratuits sont activés par le réticule errant, qui se déplace sur les rouleaux au fur et à mesure qu'ils tournent, avant de se fixer sur sa cible.
Si l'agent bleu ou l'agent rouge sont pris dans le réticule, il activera la prise de vue. Take the Shot étendra ces personnages pour remplir la bobine et ils seront maintenus comme le reste des rouleaux, et le réticule se déplacera sur une autre bobine pour trouver sa prochaine cible.
Si le réticule trouve à nouveau l'agent rouge ou bleu, Take the Shot sera relancé et il est possible de le relancer jusqu'à ce que tous les rouleaux soient remplis de symboles Wild étendus. Si le réticule atterrit sur Agent Purple, Agent Green ou un symbole LP, la fonction prendra fin.
Si le réticule atterrit sur le symbole Scatter, les tours gratuits seront déclenchés. Une fois que vous l'avez déclenché, vous recevrez 8 tours gratuits.
Pendant les tours gratuits, Take the Shot activera tous vos agents dans les Wilds étendus pendant Take the Shot.
Si le réticule trouve un symbole Scatter pendant vos tours gratuits, vous recevrez 8 tours supplémentaires!
Les agents sont prêts, n'est-ce pas?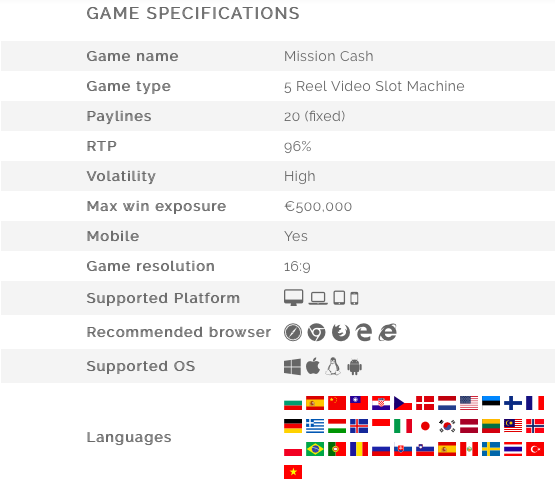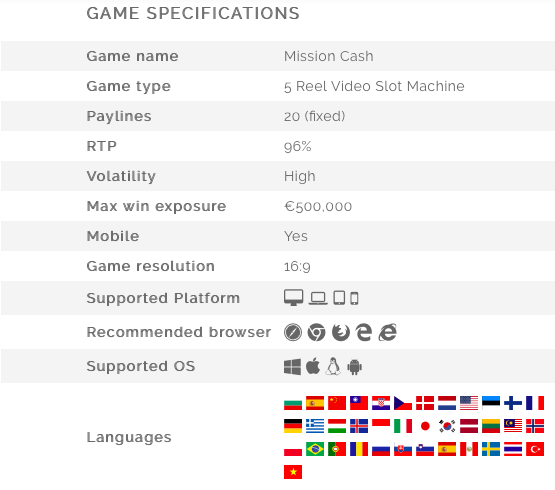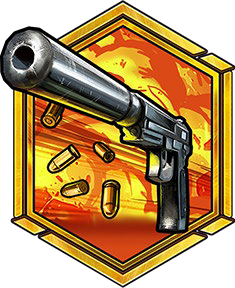 Retrouvez le jeu MISSION CASH chez :