GAME DESCRIPTION
This simple slot has a real old school look.
On the reels you'll see the following symbols (complete with their payout if you land 3 on a payline) – cherries, lemons, grapes, melons, stars, bells and lucky 7s. The lucky 7 symbol will give you 75 times your stake if you get 3 on a payline.
So far, so standard.
To the right of the reels you'll see a multiplier bar. Land a winner and that symbol enters the bar and its multiplier value increases by 1x.
If you land a winner featuring a symbol already in the multiplier bar, then the payout is boosted by the attached multiplier.
That symbol will remain in the bar and the multiplier increases by 1x.
This is calling the Rising Multiplier feature.
The multipliers are in play as long as that symbol is live in the bar to the right of the reels.
New winning symbols can push out other symbols though.
Look out for the black and white Mega Rise Chip.
Whenever this lands, it can increase the value of the multiplier attached to 1 of the symbols in the bar with the Mega Rise Chip feature.
Alternatively, it can lock a symbol in position.
This will then remain in place until you land a winner made up of that symbol.
Better still is the Golden Mega Rise Chip feature – this provides a significant increase to a symbol's multiplier in the bar.
It can also lock a symbol in the bar until it has formed a winner in 2 spins.
The classic fruit machine remains popular with slot players and Mega Rise is a pretty good example.
The design is as stripped back as you expect.
The multiplier bar delivers an extra level to the gameplay though.
In fact, it can get quite tense, especially if you have a symbol with a big multiplier in the bar and you can't quite land a winner.
We liked this take on the old school theme.
If you like classic fruit machines with a twist, then Mega Rise delivers just that.
You can also win more than 5,000 times your stake!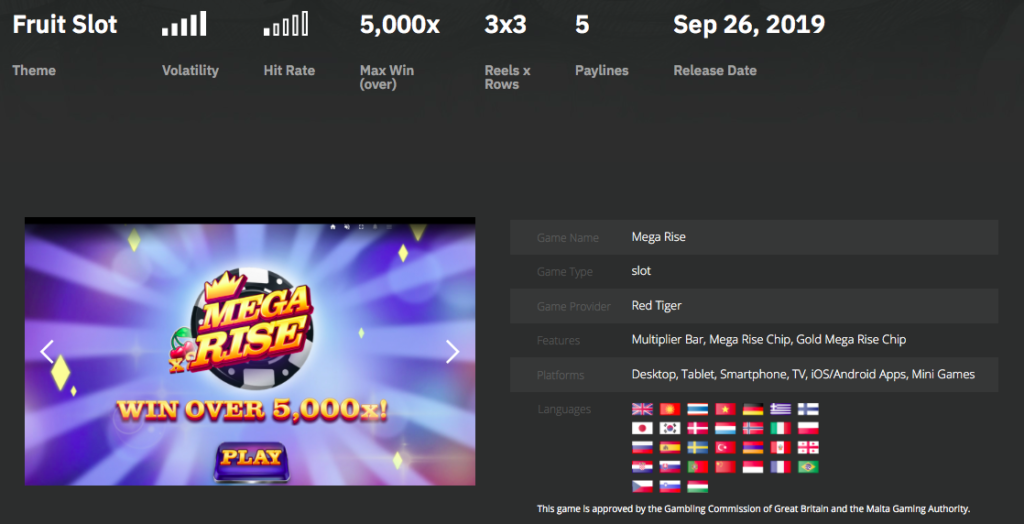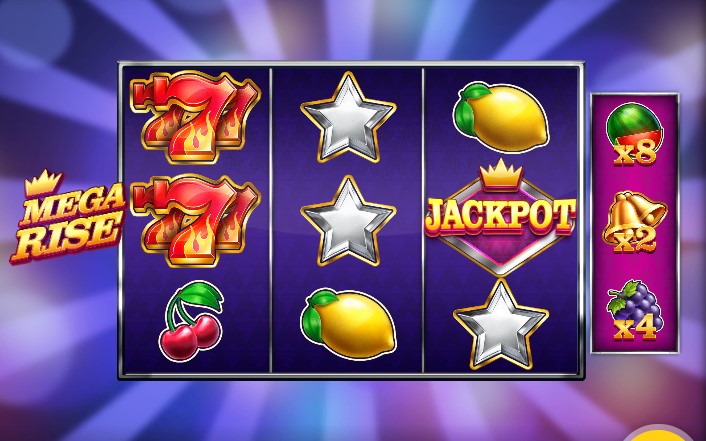 Found MEGA RISE on those casinos :