GAME DESCRIPTION
Découvrez la magie divine et le mysticisme qui ont été exaltés le long du Nil depuis les temps anciens dans Legacy of Egypt, une machine à sous à 5 rouleaux de Play'n GO.
Votre objectif est d'aligner des symboles représentant Cléopâtre, Anubis et d'autres dynasties et divinités.
Le scarabée sacré est sauvage et peut ramper pour vous aider à créer encore plus de combinaisons gagnantes le long de l'une des 30 lignes du jeu.
Trois symboles pyramidaux éparpillés sur les rouleaux font tourner la roue des dieux.
Quand il s'arrête, la roue vous offre une séquence de jusqu'à 20 tours gratuits, sur lesquels chaque combinaison gagnante vaut le double ou jusqu'à 10 fois le montant normal!
Deux ou trois scarabées sauvages qui apparaissent sur un tour gratuit injectent plusieurs tours de pyramide spéciaux dans votre séquence de tours gratuits pour augmenter encore plus vos gains.
Vous pouvez même déclencher une séquence de tours gratuits supplémentaire si vous pouvez exploiter la puissance des pyramides.
Découvrez la beauté et la bienveillance des grands et des dieux du passé dans Legacy of Egypt!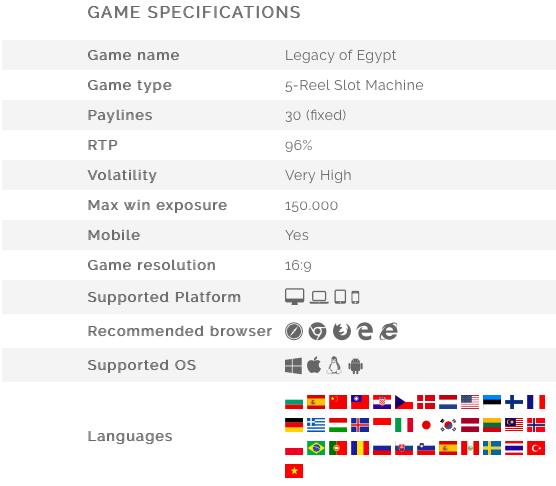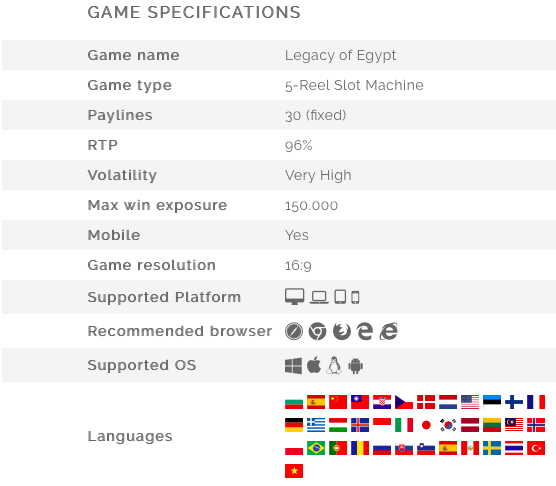 Retrouvez le jeu LEGACY OF EGYPT chez :​