GAME DESCRIPTION
Experience the divine magic and mysticism that has been exalted along the Nile since ancient times in Legacy of Egypt, a 5-reel slot from Play'n GO.
Your goal is to line up symbols depicting Cleopatra, Anubis and other dynasties and deities.
The sacred scarab beetle is wild and can crawl in to help you create even more winning combinations along any of the game's 30 lines.
Any three pyramid symbols scattered about the reels set the Wheel of the Gods spinning.
When it stops, the Wheel grants you a sequence of up to 20 free spins, on which every prize-winning combination is worth double or up to 10 times the normal amount!
Any two or three wild scarabs that appear on a free spin inject several special Pyramid Spins into your free-spin sequence to boost your winnings even further.
You can even trigger an extra free-spin sequence if you can harness the power of the pyramids.
Experience the beauty and benevolence of the greats and gods of the past in Legacy of Egypt!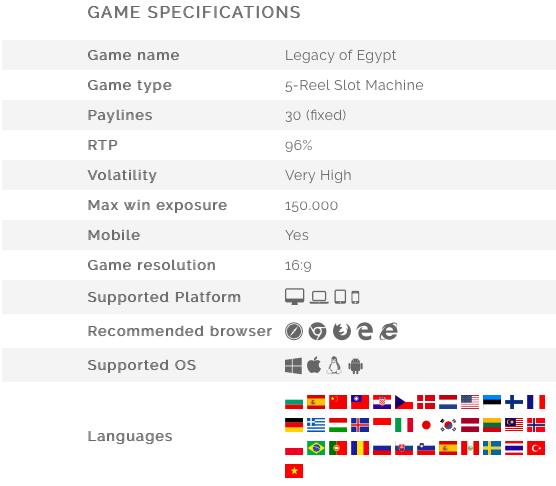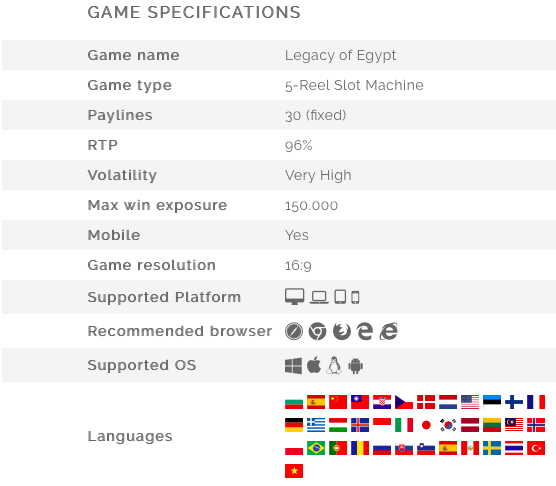 Find the game LEGACY OF EGYPT on this casino: