First place = 25€
 Second place = 15€ 
Third place = 10€
Sign up and Play EPIC GLADIATOR for real money at one of these 3 casinos

:
Make the biggest gain multiplier you can make on the game EPIC GLADIATOR in real money at one of the casino above between Friday 28 March 2020 et Thursday 05 April 2020 MIDNIGHT . 
Take a screenshot of your best win and your game history (as proof).
Exemple : Bet 0.20€ Win 100€ = Multiplier X500
Bet 1€ Win 100€ = Multiplier X100 
The 3 biggest multipliers of the week will win the Prizes above.
Where do I send my proof of winning?
Send your winning photo + history showing your gain to the following address: [email protected]
Do not forget to fill in the following information:
Provide your full name, first name and player email address.
  Provide your PayPal email address if you are lucky enough to be among the first 3.
THE 3 BIGGEST GAINS WILL BE PUBLISHED ON THIS PAGE AT THE END OF THE COMPETITION!

WINNER 1ST PLACE

: X168.1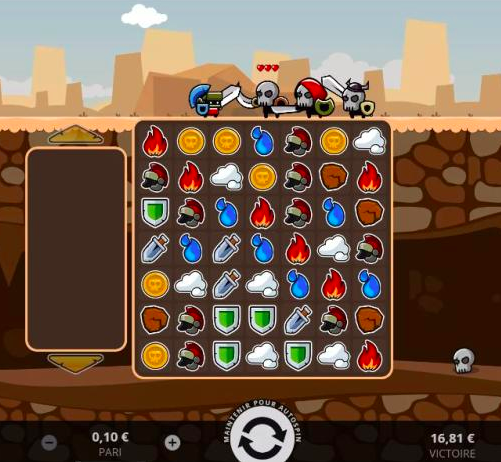 WINNER 2ND PLACE

: X167,2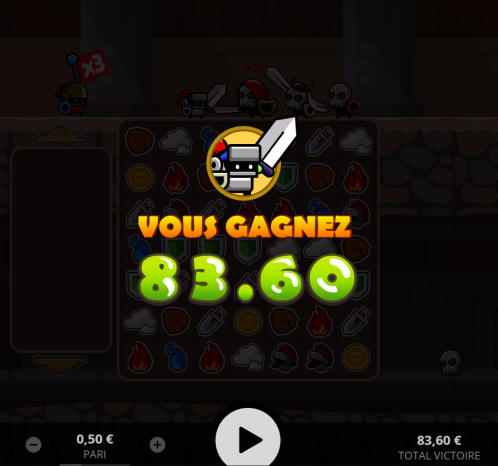 WINNER 3RD PLACE

: X161.1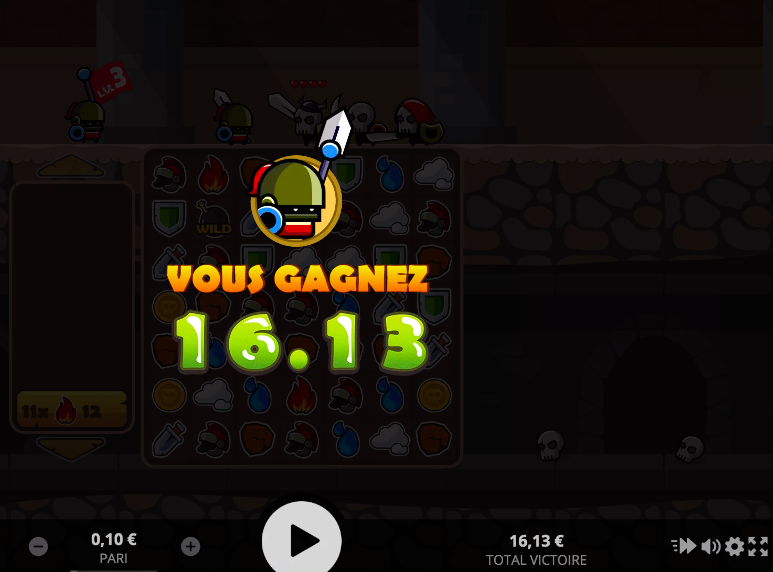 GAME DESCRIPTION
Epic gladiators boast of an unusual structure (7 rows of symbols) and a special playground.
In this field, the main character Kilevius fights against evil spirits.
With each winning combination, the enemy's health level decreases.
As soon as Kilevius kills a rival, the free spin bonus is activated.
The player can get 10, 15 or 20 free spins.
The free spins bonus is provided with one of the three gladiators (Maximus, Wild Crixus, Spintacus).
Each fighter offers an additional bonus.
FREE SPINS
When Kilevius, a main hero, kills enemies, free spins are activated.
A defeated enemy brings 10 free spins, two defeated enemies are delivered with 15 free spins and 3 defeated enemies activate 20 free spins.
MAXIMUS
At the start of Free Spins, a gladiator is selected at random.
The Maximus gladiator brings free spins with a x2 multiplier.
After each subsequent defeated enemy, a multiplier is increased by 1.
WILD CRIXUS
Le gladiateur Crixus sauvage transforme jusqu'à 3 symboles aléatoires en symboles sauvages après chaque rotation.
1 symbole supplémentaire est remplacé pour chaque ennemi vaincu suivant.
SPINTACUS
The gladiator wild Crixus transforms up to 3 random symbols into wild symbols after each rotation.
1 additional symbol is replaced for each subsequent enemy defeated.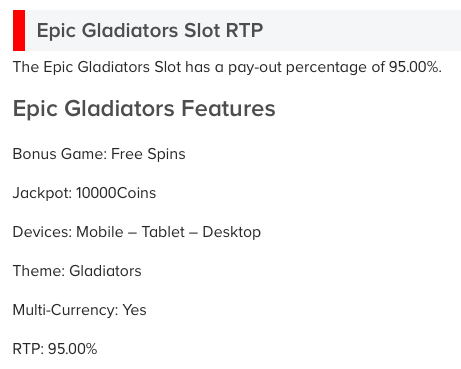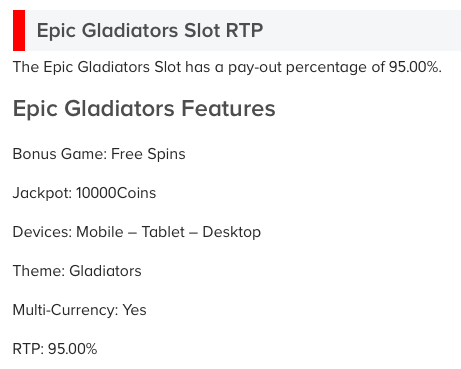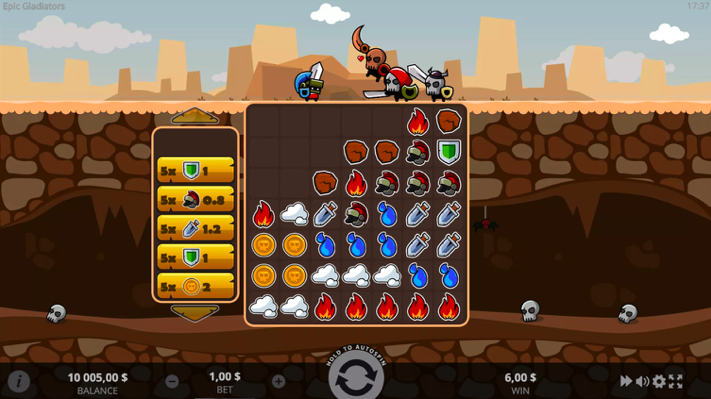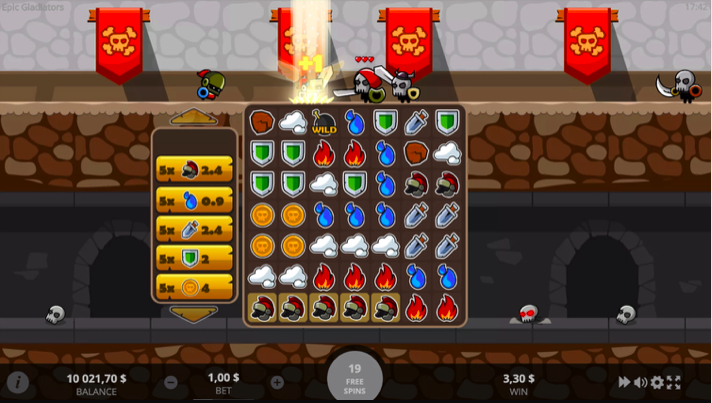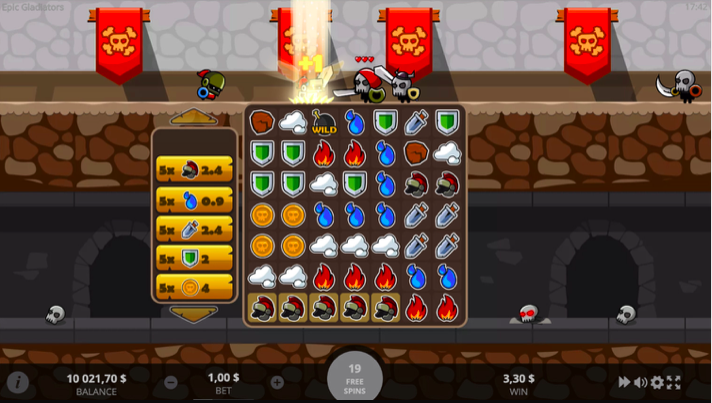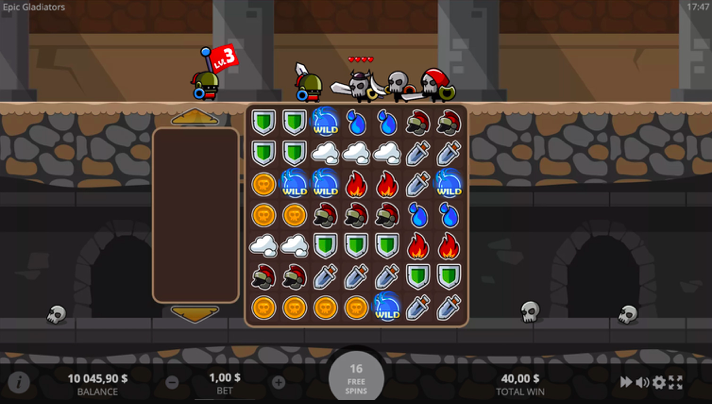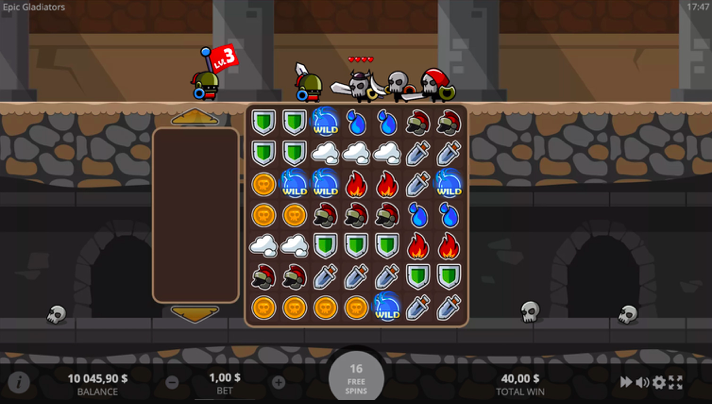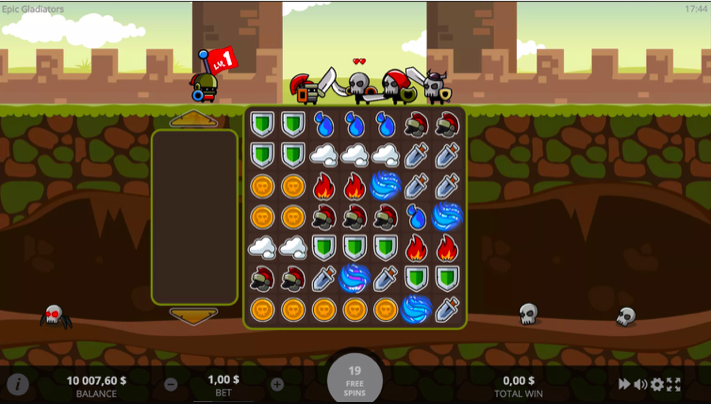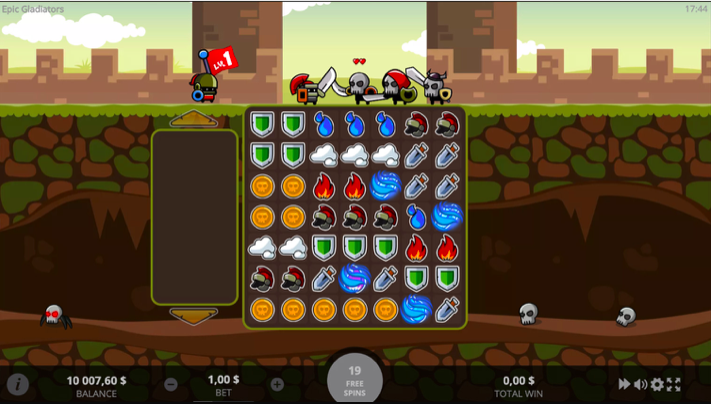 Sign up and Play EPIC GLADIATOR for real money at one of these 3 casinos

: