GAME DESCRIPTION
Voyagez au début d'une civilisation et bâtissez votre fortune aux côtés du tout-puissant dieu Ra… bienvenue à l'aube d'Égypte!
Dawn of Egypt est la dernière machine à sous à 5 rouleaux de Play'n GO avec des symboles puissants pour vous aider à saisir une part des richesses de Ra.
Les aspects antiques de la civilisation égyptienne représentent les symboles du jeu; le lotus, symbole de la création; l'ankh, symbolisant la vie; un serpent et un scorpion, des animaux sacrés dans le folklore égyptien, Sekhmet la déesse guerrière et, bien sûr, le tout-puissant Ra lui-même.
Les autres symboles sont représentés par les valeurs des cartes Jack à Ace, et vous devez faire correspondre trois symboles sur les vingt lignes de paiement du jeu pour remporter une victoire standard.
Le Wild du jeu est le Scarabée sacré, symbole d'immortalité et utilisé dans l'art pour représenter le grand dieu Ra.
Le Scarabé remplacera n'importe quel symbole (à l'exception du Scatter) pour vous aider à créer plus de lignes gagnantes.
Dawn of Egypt n'a pas un mais deux Scatters qui peuvent déclencher les fonctionnalités spéciales du jeu.
La première dispersion est la pyramide et, si vous posez au moins trois pyramides sur la grille, vous déclencherez des tours gratuits.
Une fois que vous avez déclenché des tours gratuits, la roue de Dieu se révélera et tournera pour déterminer le nombre de tours gratuits que vous recevrez; vous pouvez obtenir jusqu'à 15 tours gratuits.
Pour chaque tour gratuit, Ra utilisera son pouvoir pour transformer un symbole d'image, et un sera choisi au hasard et sera amélioré en un symbole plus puissant pour de plus grosses victoires!
Pendant les Free Spins, le Pyramind sera transformé en Wild Pyramid, le deuxième Scatter qui se double également d'un Wild sur les rouleaux.
Si vous posez deux ou plusieurs Pyramides Sauvages sur les rouleaux pendant les Tours Gratuits, alors vous libérerez la puissance impressionnante des Tours de Pyramide!
Chaque Pyramide Sauvage s'ouvrira pour révéler un nombre et, ces nombres ensemble détermineront le nombre total de Tours de Pyramide que vous recevrez.
Pendant les Pyramind Spins, les symboles d'image seront toujours améliorés mais resteront dans leur forme améliorée jusqu'à la fin des Pyramid Spins!
Atterrir deux Scatters ou plus pendant les Pyramid Spins relancera la fonctionnalité, avec une possibilité de re-triggers illimités!
Rejoignez Ra et construisez votre fortune dans Dawn of Egypt!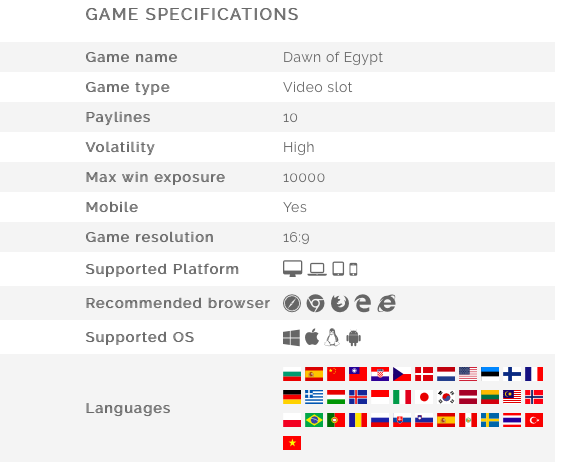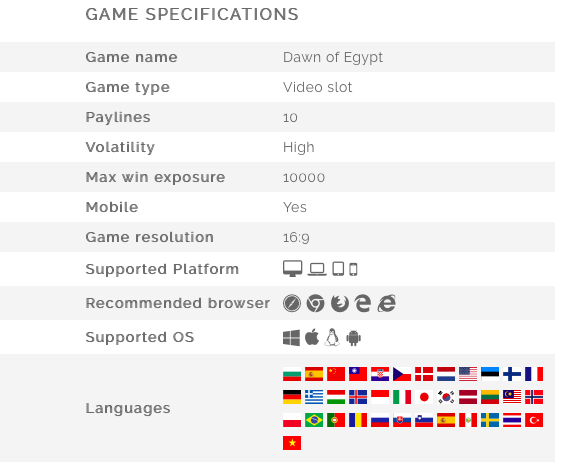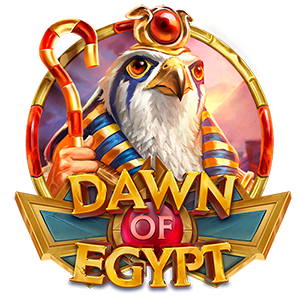 Retrouvez le jeu DAWN OF EGYPT chez :