GAME DESCRIPTION
Are you ready to rock? Join the band Black Mamba as they perform a gig on the grid in their very own slot!
Black Mamba is a cascading gridslot based on the hard rock band. Band members Fred, Cecilia and Alexandra make up in-game symbols alongside a guitar pick, drumsticks, headphones and a microphone. The band logo and lead singer Martina are your Wilds.
Match at least 3 symbols in a vertical or horizontal line, to pick yourself up a standard win. If you match 3 band symbols, the middle symbol of the combo will turn into a Martina Wild, helping you to make new combinations with the remaining symbols on the grid. If you match 3 of any of the other symbols, the middle symbol will transform on to the band logo Wild.
There's also a Multiplier on the game and, for each combo you create in a single cascade the multiplier will increase by one, before resetting on the next spin.
Each of the band members has their own Solo feature that they'll perform at certain points in the game to give you an advantage. Fred, Cecilia and Alexandra will perform their solo randomly on non-winning spins and also during Free Spins and the Concert feature (more on that later!), Martina's Solo will be performed during the Concert feature and during Free Spins.
Each members solo works as follows:
Fred's Solo: Transforms a randomly selected symbol into another symbol currently on the grid.
Cecilia's Solo: Replaces 1 to 2 symbols on the grid with Wilds
Alexandra's Solo: Destroys two types of symbols on the grid, starting with LPs and then moving up in value.
Martina's Solo: Bottom row is cleared of all but any Wild symbols and, if any HP symbols are on the bottom row, one will be converted to a x2 Wild. Martinas's Solo occurs at the end of the Concert feature.
If you fill the game's charge meter with band symbols (every band member in a winning combo during a single spin will fill the meter), then you'll trigger the awesome Concert feature!
The Concert feature will give another spin, and then each member of the band will get a chance to perform their solo in order when there are no more wins on the grid. First Alexandra, then Cecilia, then Fred and finally Martina will perform.
Clearing the whole grid triggers the Free Spins feature, and you'll get eight free spins. The band member present onscreen when Free Spins are triggered will perform their Solo on every non-winning free spin. Martina's Solo activates after every free spin, either by itself or following the band member whom you take into Free Spins.
The win multiplier achieved on your triggering spin will be carried into the Free Spins and used as a base for each spin instead of resetting to one.
Free Spins can be retriggered by filling the on-screen charge meter with 4 to 6 charges, as with Concert. Achieving 4 to 5 charges award, two free spins and 6 charges award four free spins. The Concert feature can also be triggered during Free Spins!
Free Spins and multipliers are unlimited during Free Spins, and if you clear the grid, you'll receive 50x your bet, not affected by the multiplier.
Grab a guitar and get ready to jam with Black Mamba!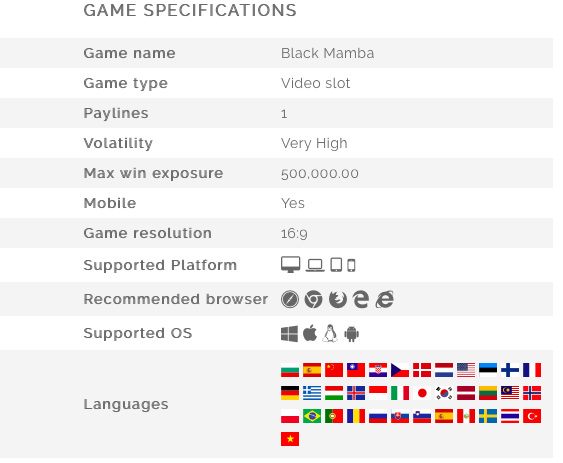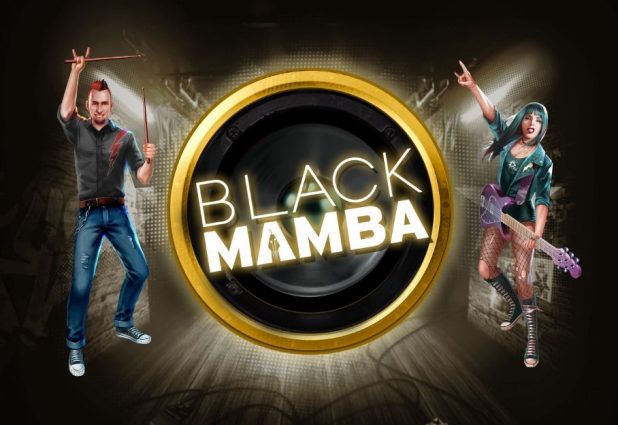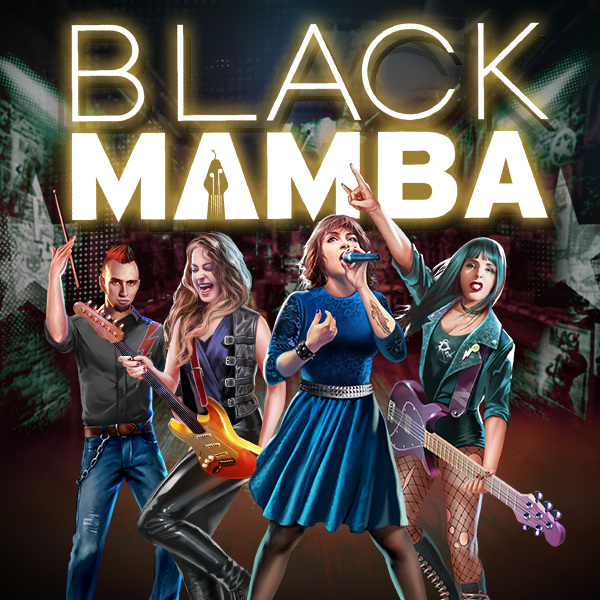 Find the game BLACK MAMBA on this casino:​