GAME DESCRIPTION
Ankh of Anubis est une machine à sous vidéo à 5 rouleaux jouée avec 576 voies de paiement, de gauche à droite.
Ce slot comprend un symbole sauvage (Anubis), un symbole scatter (Pyramide), l'Ankh et d'autres trésors en tant que symboles bien rémunérés, et la royauté en tant que symboles peu rémunérateurs.
Le symbole Wild remplace tout autre symbole de bobine, à l'exception du symbole scatter pour aider à créer des combinaisons gagnantes.
La fonction Anubis Wilds est déclenchée au hasard sur n'importe quel tour du jeu de base.
Lorsqu'ils sont déclenchés, des symboles joker sont ajoutés pendant que les rouleaux tournent encore.
Cette fonctionnalité ne garantit aucune combinaison gagnante.
Les tours gratuits sont déclenchés lorsque 3 symboles scatter ou plus ont atterri sur les rouleaux.
3 Scatters accordent 10 tours gratuits, 4 Scatters accordent 15 tours gratuits et 5 Scatters accordent 20 tours gratuits.
La collecte de cinq symboles Ankh déclenchera la fonction Anubis Wilds dans les tours gratuits.
Lorsque le nombre requis d'Ankhhs a été atteint, des symboles Wild seront ajoutés aux rouleaux pour aider à créer des combinaisons gagnantes.
L'effet est joué à la fin du spin. Les résultats seront calculés et payés en conséquence.
Collection of the Ankhs reprend plusieurs tours de jeu pendant les tours gratuits. Le compteur de collecte se réinitialise à la fin de la fonction.
Les tours gratuits peuvent être prolongés lorsque le symbole scatter se pose sur les rouleaux. 3, 4 ou 5 symboles Scatter atterrissant sur les rouleaux donneront respectivement 3, 4 ou 5 tours gratuits supplémentaires.
Le nombre de re-déclencheurs est illimité. La fonctionnalité prendra fin si le gain maximum est atteint.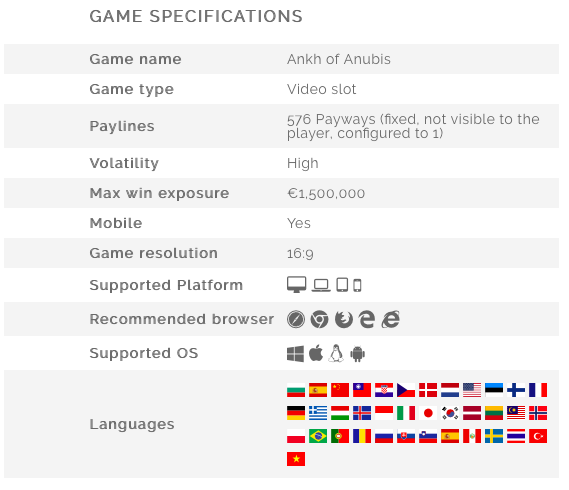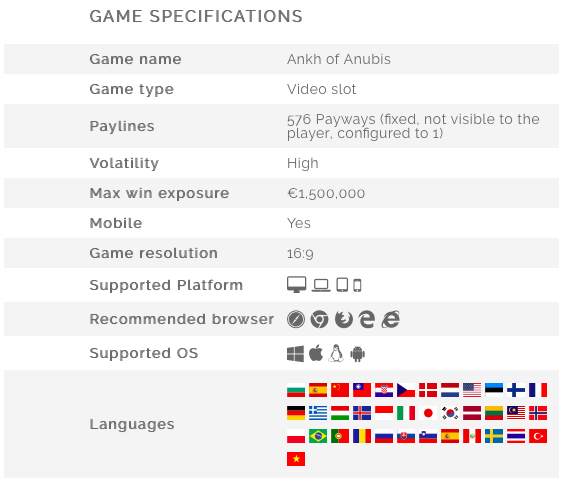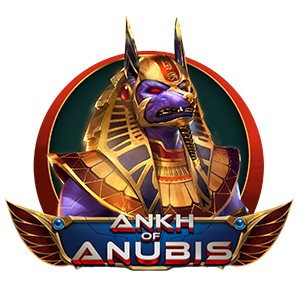 Retrouvez le jeu ANKH OF ANUBIS chez :